Christmas Booking
Specials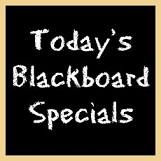 Our specials boards are updated daily. So be sure to check out the blackboards located around the pub.
Call 01684 592758 to book or enquire.
Christmas Menu
View our Daily Menu
~ To Start ~
Roasted Red Pepper and Tomato Soup with Herb Croutons
Pan Fried Pigeon Breast on a Salad of Black Pudding, Rocket and Cranberry Compote
King Prawns with Garlic and Chilli Butter on a bed of Mixed Salad
Salmon and Prawn Roulade with Pickled Cucumber, Dill and Spicy Bloody Marie Rose Sauce
Honey and BBQ Glazed Belly Pork Bites with Sesame Seeds, Rocket and Parmesan Shavings
Marinated Beetroot with Grilled Cheese and Walnut Salad
~ To Follow ~
Roast Turkey Breast with Pigs in Blankets and Homemade Stuffing
Beef Bourguignon served with Sweet Potato Mash and Winter Vegetables
Roasted Butternut Squash Risotto served with Parsnip Crisp and Parmesan Shavings
Grilled Hake with Chef's Mediterranean Vegetables and Salsa Verde
Pan Fried Sea Bass with Garlic and Herb Crushed New Potatoes, Charcoal Asparagus and Chorizo Butter
Mediterranean Roasted Vegetable Strudel
All main courses served with seasonal fresh vegetables and roast or new potatoes (vegetarian gravy available)
~ To Finish ~
Christmas Pudding with Brandy Sauce
Warm Chocolate Brownie with Winter Compote
Bailey's and Terry's Chocolate Orange Cheesecake
Vanilla Infused Panna Cotta
Poached Fruits
All served with Cream, Ice Cream or Custard
Trio of Cheeses, Apple, Celery, Grapes and Drum and Monkey Chutney
~ ~ ~
Two Course Menu for: £19.50
Three Course Menu for: £23.50
Available from 1st to 24th December 2019
FOOD ALLERGY NOTICE – If you have a food allergy or a special dietary requirement, please inform a member of the team.