Specials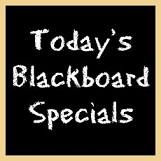 Our specials boards are updated daily. So be sure to check out the blackboards located around the pub.
Call 01684 592758 to book or enquire.
Our Menu - Served Lunchtime and Evening
View our Christmas Menu
~ Starters ~
Marinated Olives with Balsamic, Oil, and Rustic Bread - £6.00
Homemade Soup of the Day with Warm Rustic Bread - £5.15
Crispy Whitebait with Garlic and Chive Lemon Mayo - £5.50
Halloumi Fries with Sweet Chilli Dip and Mixed Leaves - £6.00
~ Mains ~
Drum and Monkey Homemade Beef Burger with Homemade Chips, Zingy Coleslaw and Onion Rings £11.25
Pan Fried Sea Bass, Buttered New Potatoes, Mediterranean Veg and Chorizo Butter - £14.95
Chicken Breast wrapped in Bacon, topped with Cheese and BBQ Sauce, served with Onion Rings - £13.95
12oz Gammon Steak with Fried Pineapple or Egg - £14.25
Beer Battered Fish and Homemade Chips and Mushy or Garden Peas – large £11.95 small £7.95
Wholetail Scampi with Homemade Chips and Mushy or Garden Peas - £10.95
Fish Pie with Smoked Haddock, Salmon and Cod in a Cheese, Leek and Dill Sauce topped with Champ Mash - £13.25
Pan Fried Lamb's Liver and Streaky Bacon, with a Rich Red Wine and Onion Gravy - £13.50
Vegetarian / Vegan Options
Goats Cheese and Red Onion Tart with a Balsamic Glaze - £10.50
Quinoa Salad with Asparagus, Peas, Broad Beans and Fresh Mint, topped with Toasted Almonds - £11.95
Asparagus and Lemon Risotto topped with Parmesan Cheese and Lemon Dressing - £11.95
Finest quality locally produced steaks
Rump (12oz) - £19.95
Sirloin (6oz) - £14.95
All served with Homemade Onion Rings, Mushroom and Grilled Tomato and a choice of: Peppercorn Sauce, Stilton Sauce or Garlic Butter - £2.00 each
Homemade Pies - Please see the Pie Board - £11.95
Main courses served with Vegetables or Salad and a choice of: Sauté, Mash, New, or Homemade Chips (unless otherwise stated)
~ Daily Specials – please ask ~
~ Homemade Desserts – please ask ~
Please note that all of our dishes are freshly prepared, so please bear with us whilst we ensure food is cooked and presented to your liking
FOOD ALLERGY NOTICE – If you have a food allergy or a special dietary requirement, please inform a member of the team.